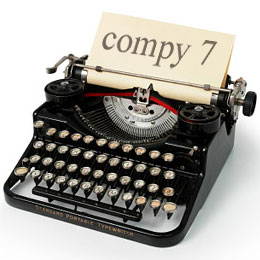 Compy 7
10th Oct 2008
Compilation time! This is a mix of BIG tracks. Big beats, big guitars, big basslines and big melodies.
Starting with an oldie by the criminally underated Capricorn, a John peel favourite. I Love NY is lifted from their immense 1998 album Lost In Jellywood and successfully mashes together heavy guitar with industrial strength beats. Best listened to LOUD! This tone is maintained with the stonking Goose Remix of Shitdisco's I Know Kung Fu (one of those remixes that improves the original beyond belief). That screaming aaaaah-aaaaahh-aaaaaah chorus is as catchy as hell.
The contrast that follows with Jorg Burger's brilliant cover version of Human Resource's Dominator is strong and perfectly welcome before the big beats return on track 4 with some dude called Busy P (this one came from Pelski's site along with a few more that feature in this mix, so if you like them go check his site out). It's another remix (by Streetlife DJs) and marries big guitars, bassline and beats very pleasingly.
Track 5 is a pure pop gem from The Faint and easily the best track from their recent album Fasciination. Then we have a massive bass-splitting-action with Herve's remix of Kidda's Under The Sun (also featuring an ultra cool piano riff). Eighties synths and basslines abound with Belfast from Gruff Rhys & Boom Bip aka Neon Neon. Penultimate track is the ever faithful Fake Blood with another amazing remix, this time it's Stuck on Repeat by flavour of the moment Little Boots. And to complete the full circle, we've got Eskimo Joe, an Australian rock band, given the remix treatment by Sneaky Sound System.
Capricorn - I Love NY (5:13)
Shitdisco - I Know Kung Fu (Goose Remix) 6:55
Jorg Burger - Modernism Begins At Home 5:01
Busy P - Get Yo! Rainbow Man (Streetlife DJs Cut n Run Mix) 6:21
The Faint - Mirror Error 3:43
Kidda - Under The Sun (Herve Remix) 3:36
Neon Neon - Belfast 3:09
Little Boots - Stuck on Repeat (Fake Blood Remix) 6:28
Eskimo Joe - London Bombs (Sneaky Sound System Remix) 5:01
Download (62.4MB) - 45mins 29secs
NB. Only the most recent three compies will be available for download, anything older gets deleted from the servers. Grab The Letter RSS feed to catch the latest mixes.