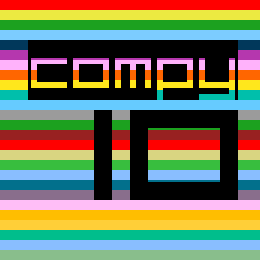 Compy 10
26th Mar 2009
A new compilation for you to download and cherish! Woo-hoo!
This one includes a nice mix of old and new tracks, including Fot I Hose from Casiokids, a Jesse Rose remix of Kenneth Bager and the best eighties-sounding cut around at the moment from Let's Go Outside.
Nalepa - Monday (The Glitch Mob Remix), 6:29

Nalepa, aka Steve Nalepa produces lo-fi, glitchy dub, but The Glitch Mob remix turns the track into an edgy, powerhouse. Brilliant opener to set the scene

Bjork - Dull Flame Of Desire (Modeselektor's Remix For Girls), 6:14

In similar fashion, Modeselektor transform a fairly tame Bjork duet with Antony Hegarty (of "Johnsons" fame) into a raving, trance anthem... real quality

Casiokids - Fot I Hose, 2:55

Fairly new to me is Casiokids, a Norwegian group numbering eight or nine. In their own words they say: "old analogue and trashy keyboards, pop melodies and a digital & shadow puppet theatre make up the Norwegian electro-troupe that is Casiokids". This track is a really catchy, 3 minute, pop gem

Luomo - Love You All (With Sascha Ring), 7:12

Sascha Ring, the lead singer with Apparat has a beautiful voice and on this collaboration with Luomo we've got a match made in heaven

Tiga - Mind dimension (Original mix), 5:41

This was suprisingly quite challenging to get into at first, with it's insistent dirty bass and mix of high-pitched and low-pitched vocals but it's one of those tracks that takes time to appreciate. As a result it fits well into this set, providing a challange for you too. Looking forward to Tiga's new album Ciao

Guy J - Druma, 5:10

One of the best tracks from Guy J's decent album from last year, Esperanza. It's a very melodic instrumental that builds and builds before petering out

Kenneth Bager - Fragment Seven (Les Fleurs) (Jesse Rose's Monday Afternoon Alternate Version), 5:31

Anyone familiar with the original Kenneth Bager version will appreciate this clever Jesse Rose mix as he removes the joyous chorus and instead focusses on the beat. I thought it provided the perfect sequence between the previous and next tracks

Let's Go Outside - I See You Dancing, 4:36

Oh this is a really amazing track. If Let's Go Outside's new album is anything close to this quality we'll have a classic in the making. The stabbing eighties synth and languid, almost-spoken vocals create a wonderfully melancholic mood

A1 Bassline vs Kavs Rave - Lucky Charms, 5:09

No, the compilation doesn't start getting dour after the last track; this bouncy blazer provides the perfect antidote to the morose I See You Dancing

Synthia - Madonher, 2:26

Hopefully ending on a high note, like this demo track from Synthia, will make you feel like listening to the whole mix again... well that's the idea. Pure pop disco
Download Compy 10. 70MB and 51mins.
NB. Only the most recent three compies will be available for download, anything older gets deleted from the servers. Grab The Letter RSS feed to catch the latest mixes.