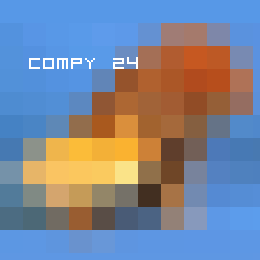 Compy 24
24th Aug 2012
A new compilation... come and get it! Features ten, mostly lyrical tracks including Disclosure, Jamie Jones, Fort Romeau, My Favorite Robot, Oxia and Benjamin Damage & Doc Daneeka.
Opening with a remixed track from the extremely popular Lana Del Ray, Gessafelstein turns an already decent tune into a belter... the perfect opener to any compy.
Next follows the first of two tracks lifted from the recent Body Language Vol. 11 by Nôze (a compilation I highly recommend). The Oliver Koletzki & Fran track is particularly catchy. Then we have the barnstorming What's In Your Head by the hot younglings Disclosure.
The comment on this YouTube page for the Jamie Jones track really resonates with me:
just want to fuck his sound
...perfectly describing the sexy, grinding bass. I love that track.
Further on we have the soulful, deep house melodies of Fort Romeau, with a standout track from his recent Kingdoms album.
A couple of older favourites from the last year follow, from Dominik Eulberg and My Favorite Robot. I'm really looking forward to the latter's debut album, if it's ever going to materialise.
The last two blissed-out tracks, featuring top-notch female vocals, round things off nicely. The Oxia track taken from the ok-ish recent album Tides of Mind while the Benjamin Damage & Doc Daneeka one comes from the excellent album on 50 Weapons, They Live!
| Track | Artist | Title |
| --- | --- | --- |
| 1 | Lana Del Rey | Blue Jeans (Gesaffelstein Remix) |
| 2 | Oliver Koletzki & Fran | Arrow and Bow (Marek Hemmann Remix) |
| 3 | Disclosure | What's In Your Head |
| 4 | Jamie Jones | Over Each Other feat. Leave Ya |
| 5 | Ruede Hagelstein feat. Meggy | Embezzle Me (Tiefschwarz Remix) |
| 6 | Fort Romeau | Need U |
| 7 | Dominik Eulberg | H2O |
| 8 | My Favorite Robot | Forest Fires |
| 9 | Oxia | Traveling Fast (feat. Mesparrow) |
| 10 | Benjamin Damage & Doc Daneeka | Battleships Featuring Abigail Wyles |
Time 56:11. Size: 92.5MB. Quality: 230kbs. Download Compy 24.
NB. Only the most recent three compies will be available for download, anything older gets deleted from the servers. Grab The Letter RSS feed to catch the latest mixes.