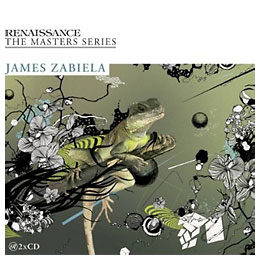 James Zabiela - Renaissance: The Masters Series
9th Mar 2009
A really top quality double CD from James Zabiela, mixing several of my favourite electronic tracks, like Boards of Canada's Amo Bishop Roden, with some tasteful drum'n'bass from Quivver with some slightly heavier stuff, like the stonking Surrender by Paul Woolford. Zabiela's even treated us to a couple of his own compositions.
CD 1, subtitled "Down" is near perfection in terms of chillout, with classics from the likes of Trentemoller, Modeselektor, Esky and Plaid. Excellently mixed throughout, the pace lifts a little near the end with Quivver, setting us for CD 2, subtitled "Up".
Full steam ahead on CD 2 opening with the juggernaut that is Afghanistan by Komytea, quickly followed by the mix highlight Surrender by Paul Woolford. The quality doesn't drop though, with Extrawelt's Added Planet and Zabiela's own Darkness.2 (which is clearly influenced by BOC). Another top moment follows with Dean Newton & Huggy's Energy Flash (Reconstructed) with it's insistent, farty, refrain and ghostly backing track.
Although mostly instrumental throughout, the inclusion of Love You All, Luomo's collaboration with Apparat and Oliver Koletzki's Since You Are Gone leaves you with a memorable closing sequence.
After 8 listens | 10/10