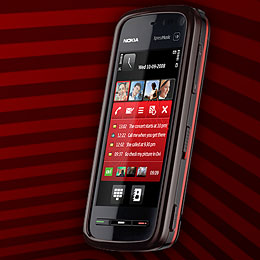 Nokia 5800 XpressMusic
23rd Jan 2009
Nokia get set for the release of their iPhone competitor: Nokia 5800 XpressMusic. It's got:
3.2" touch screen
3.2 megapixel camera
3.5G functionality (an will auto-connect to any available wifi)
8GB microSD card
35 hour music playback
built-in speakers (that are apparently quite good)
Flash 9 support on the web browser
Sounds good. Have a play around with it. Read a couple of reviews.