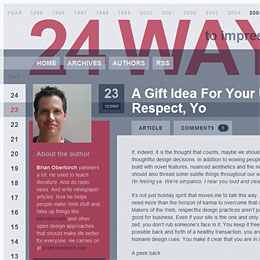 24 ways
4th Dec 2008
If you haven't heard of 24 Ways yet, it's worth checking out:
24 ways is the advent calendar for web geeks. Each day throughout December we publish a daily dose of web design and development goodness to bring you all a little Christmas cheer
Even if you're not really into learning more about web design and development, it's worth just marvelling at the very slick work that's gone into this year's design... I absolutely love it! The design was Made by Elelphant.