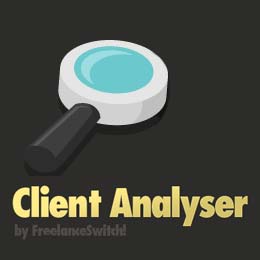 Client Analyser
5th Mar 2008
The 80/20 principle states that for many situations, a majority of effects come from a minority of causes. It is particularly useful for analysing effectiveness.
So, using this 80/20 principle, FreelanceSwitch have put together a Client Analyser which helps you work out which clients are worth keeping and which ones are dragging you down.
Not every client is created equal. Some clients deserve more attention and some aren't necessarily worth working with. However this can be hard to see clearly and impartially when you're working with people everyday.
Input your client-related data like number of referrals from clients, money made from clients, effective hourly rate per client and which clients pay on time to be analysed and receive back an answer. Who knows how this may end? It may result in you dropping one of your clients!