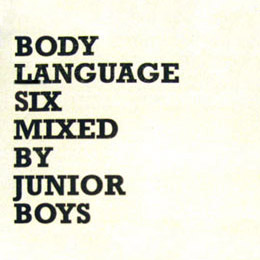 Body Language Six
18th Jan 2008
Sixth in the Get Physical series of Body Language compilations is an amazing sounding selection of songs by the equally amazing Junior Boys:
Sorcerer - Surfing At Midnight (Prins Thomas Miks)
Supermayer - Saturndays
Chelonis R. Jones - Deer In The Headlights (DJ Hell Remix)
Love Nine - Feedback
Kreon & Lemos Feat. Feeboy - Fola
Kelley Polar - Rosenband (Magic Tim's Instrumental Version)
Steadycam - In The Moog For Love
Radio Slave - Screaming Hands (Cosmo Vitelli Radioaktivitat Remix)
Studio - Life's A Beach! (Todd Terje Beach House Mix)
Gui.tar - Love Started To Shine
Stereo Image - Dark Chapter
Matthew Dear - You Know What I Would Do
Pushe - Don't Take Your Love Away
Visage - I'm Still Searching
Junior Boys - No Kinda Man
Rework - Love Love Love Yeah (Chloe Remix)
f0st3r - bl3w r0d30 d3m0
Chloe - Be Kind To Me
Bill Nelson - When Your Dream Of Perfect Beauty Comes True
I can't wait. More info at RA.