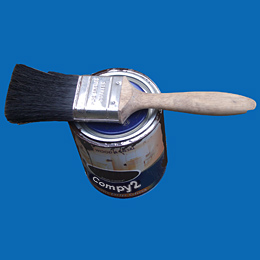 Compy2
27th Nov 2007
Here's number two in my compilation series: Compy2.
A quick run-through of the tracks: Commix are my favourite new band at the moment, their 'Call To Mind' album is excellent and 'Be True' the opening track on both (this compilation and their album) is a brill. Late Of The Pier, who I mentioned before manage to merge guitars, electro and lots of recognisable influences to make their own unique sound. The Young Punx number is a remix and although quite long at 9mins 27secs, it never outstays it's welcome. Adam & Eve is lifted from the mammoth triple CD We Are Punks by Anthony Rother and features the amazing vocals of Xenia Beliayeva. The Chemical Brothers' Saturate features a very cool, cartoony-sounding, drum-roll at various points throughout song (and first at 1min 17secs) - great! In some quarters this Marc Houle track is being slated for being too cool for it's own good but I love it for it's totally stripped down, naked sound (and it's low-down vocals). Roland Klinkenberg track taken from album of the same name - it's a must listen. Final track is a chilled-out, easy-listening-type from Slovenian Umek. Enjoy!
Commix - Be True (6:37)
Late Of The Pier - Bathroom Gurgle (4:49)
The Young Punx - Your Music Is Killing Me (Olav Basoski remix) (9:27)
Anthony Rother - Adma & Eve (3:40)
The Chemical Brothers - Saturate (4:50)
Marc Houle - Techno Vocals (Original mix) (5:39)
Roland Klinkenberg - Mexico Can Wait (6:16)
Umek - Richochet Effect (9:54)
Download Compy2 (84MB).
NB. Only the most recent three compies will be available for download, anything older gets deleted from the servers. Grab The Letter RSS feed to catch the latest mixes.