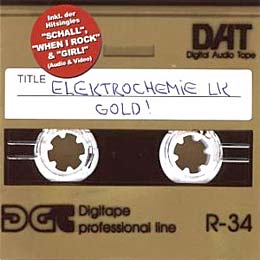 Elektrochemie LK - Gold!
14th Feb 2006
Difficult album to get into at first, which is usually a good sign. Elektrochemie hail from Germany and are lead by DJ / Producer Thomas Schumacher. Gold! was released in 2001 and although some categorise it as Techno, there's hints of Adult, The Prodigy and Daft Punk.
Listen: there's a wonderful urgency to "Chichi" while the aggressive bass / beats of "Boodie Steil" take a little getting used to. Still not sure about the rapping on "Ein Nenner". Worth checking out though.