What is The Letter all about?
In the past The Letter has been referred to as 'not a magazine', 'a jumble of old crap' and 'great' by various parties.. but those descriptions don't really help much do they? In it's simplest form The Letter is a thinking post for Blair Millen, the guy that runs Doepud Web Design. And by 'thinking post' we mean a place where he collect's random thoughts and ramblings that he can refer back to at a later date in case they come in useful.
So... who's Blair Millen?
He's an arty-farty-type-turned-webby-knobby-type. After studying Drawing and Painting at Glasgow School of Art he eeked out a living for many years as an artist before getting thoroughly sick of being skint (no, it's not that he was a crap painter, it's just that selling paintings is a tough business to be in). His resolution was to return to education and study Computer Science at Glasgow University in the hope of making something of himself.
We're still waiting to see if he makes something of himself but in the meantime we understand that he set up his own web design business in January 2006 and since then he's managed to avoid any serious wranglings with the inland revenue... so far so good then.
He looks like a real catch, is he still single?
If you're a young beautiful woman living in the Inverness area, earning a good salary in a responsible job, own your own house and car, enjoy holidays abroad and are looking for love, romance and companionship then too bad he's not available. In fact he's not been available since 1993 when he met (his now current boss) Lynne. They live a very unglamourous life together in the remote wilderness of Ross-shire (which is in the Highlands of Scotland if you weren't sure).

Changing Room
So he went to Art School? Now that sounds glamourous!
Yes, from 1991-95 there was a definite element of glamour to his life but to be honest it steadily went downhill after that. Admittedly, he learnt how to draw and paint but in his short-lived career as an artist (1995-02) he never fully realised his potential - never focussing on any particular subject matter nor developing his own personal style... a sad story indeed.
As a young man studying at art school it may come as no surprise that he found painting naked women much fun; and this subject informed his work for several years. Here's an example of one work called Changing Room (oil on canvas / 48in square). And of course being an inquisitive young man he was rather keen to learn more about the opposite sex: enter Lynne (no pun intended).
Here's a painting of Lynne in the bath; it's called Bathtime.
Bathtime
From arty-farty to webby-knobby... how did that happen?
For years he worked hard to make a success of his art and although the living was hard he managed to sneek the odd victory now and again, like the JD Fergusson Award and a Hospitalfield Scholarship; the latter turning out to be a significant catalyst in his development towards computer-based art.
The Hospitalfield Scholarship involved a three-month stay in Arbroath and with it brought an exciting new dimension to his work: screen-printing. It was the processes involved in preparing stencils for screen-printing that turned out to be the real pivotal factor: he had to use Photoshop to create the stencils! And before he knew it...
World-famous web sites
It didn't take long for the first web site to follow and the rest as we say is history!
As anyone who's ever surfed the web will attest to, the mark he's made on the web is immense. His name is only ever mentioned with the greatest reverence and not a day goes by when someone doesn't raise their hands in the air like they just don't care as a gesture of their praise and thanks for his efforts. Anyway, that's enough about Tim Berners-Lee, back to the subject on hand, which is Blair Millen.
So, world-famous sites? Well, maybe that's an exaggeration that the search engines won't appreciate but check out some examples of his web work yourself to see what you think: Achilles Heel, Balance and LouderVoice. Of course all Blair's work is thought of very highly by Lynne and his Mum.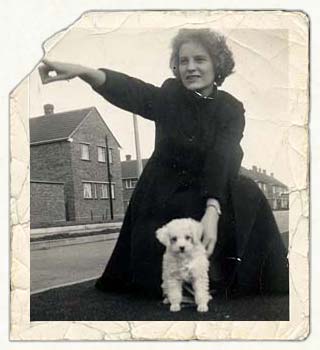 Mum
This is great reading, tell us more about Blair Millen!
Ok. Here's some quickies:
Right, that's enough, you can stop now
Ok.